Eric Clapton - Guitar Legend!
With Eric Clapton's induction into the Rock and Roll Hall of Fame as a solo artist on March 6, 2000, he became the first musician to have been inducted three times. He was first honored as a member of the Yardbirds in 1992, then with Cream in 1993, and finally as a solo artist in 2000.
While his stints with the groups were relatively brief - he stayed with the Yardbirds only a year and a half, and Cream lasted barely two years - Clapton has been a solo artist for three decades, beginning with the release of Eric Clapton in 1970. Even Derek and the Dominos, the short-lived quartet that cut the classic Layla...and Other Love Songs in 1970, was less a band of equals (a la Cream) than a Clapton-piloted project that bore his highly personalized stamp. As a solo artist, Clapton has brought his singing and songwriting to the fore while maintaining his stature as rock's preeminent guitarist. Demonstrating a remarkable resilience, Clapton has managed to establish himself as a vital, hitmaking presence in every decade. --Rock and Roll Hall of Fame and Museum--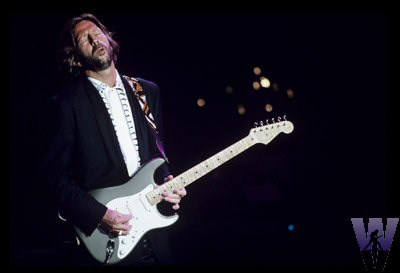 ---
Eric Clapton Discography and Fact Sheet - Top 10 albums, singles, list positions and more


Browse the Eric Clapton Poster Shop



---
An Early Start
Eric Clapton was born March 30, 1945 (Eric Patrick Clap) in Ripley England and is one of the brightest names in classic rock to date.
When Clapton was a child in England, raised by his grandparents, his biggest influence musically was the blues. He shunned the pop music of his teenage years to listen to the likes of Robert Johnson, and his love of the blues would continue to show in his music as he grew up. Clapton attended the Kingston College of Art, supposedly to become a stained-glass designer, but he was expelled for playing his guitar in class. He continued to spend most of his free time playing the guitar, and joined a number of English blues bands. It wasn't until he joined the Yardbirds, however, that he made a name for himself.
It was because of his participation in the Yardbirds with Jimmy Page and Jeff Beck that he earned his first induction to the Rock and Roll Hall of Fame.
Their first two albums were highly popular, but Clapton left in 1965, feeling that the band was moving too far away from a blues focus.
The Yardbirds "Louise" 1963




After joining the Bluesbreakers soon afterwards, Eric Clapton's talent exploded and a common cry of the fans was "Clapton is God!" Their album made number six on the English pop charts, but nonetheless, Clapton left midway through 1966 to form his own band, Cream, with Jack Bruce and Ginger Baker.
Whirlwind of Activity
In two short years Cream produced three successful albums and did extensive touring. However, the three members had strong egos, and the cries of "Clapton is God" helped further the dissolution of the group. They wrapped up their last tour in 1968 and produced the "Goodbye" album in 1969 before breaking up.
Later that year Clapton formed Blind Faith with Baker, Rich Grech, and Steve Winwood. After one self-titled album and a whirlwind, 24 city American tour, the stress was too much and they broke up. Clapton moved on to collaborate with Delaney and Bonnie, the husband and wife act that had toured with Blind Faith, the resulting album, On Tour With Eric Clapton, released in 1970 was a mild success although critically acclaimed, rising to #29 on the charts.
1970 was also when Eric Clapton made his solo debut, which produced one album and a modest hit single, a cover of J.J. Cale's "After Midnight." Bassist Carl Radle, keyboardist Bobby Whitlock, and drummer Jim Gordon performed with Clapton on this release, and they then went on to form Derek and the Dominos - Clapton was no longer going solo. They released "Layla and Other Assorted Long Songs," one of Eric Clapton's definitive albums. However, his addiction to heroin was becoming worse and contributed to the death of the band. They aborted their upcoming tour and an unfinished second album.
Dealing with Addiction
Clapton pulled out of public life to deal with his heroin addiction, and after some controversial treatments, came back to record a string of albums that disappointed many fans. They felt he had abandoned his blues roots and did not like this more heavy vocal style.
In 1980 Eric Clapton released "Just One Night," an album that brought back the classic blues guitar that his fans loved, but it marked the start of his downfall into alcohol addiction as well. In 1981 he finally succumbed to it to the point he was hospitalized.
But like with his heroin addiction, Clapton prevailed, and after recovering went on to produce five more successful albums in the next five years. Many critics claimed he had reached his pinnacle during his heroin addiction days, but despite their doubt, Clapton's popularity only grew. In 1988 he released "Crossroads," a retrospective album, which won Clapton two Grammys.
Year of Sorrow
Tragedy struck again in 1990, this time not from within, but from without - first, his friend Stevie Ray Vaughan and two of his road crew died in a helicopter crash between concerts. Later that year, his four-year-old son died from an accidental fall from the 49th floor of a highrise in Manhattan. His grief spurred him to write the wrenching "Tears in Heaven," which appeared on both the "Rush" soundtrack and his 1992 "Unplugged" album. The song and the album went on to win Eric Clapton six Grammy awards.
Return to His Roots
With "Return to the Cradle" in 1994, Clapton returned to his blues roots, to the delight of fans and critics alike. Since then he has collaborated with Carlos Santana for "The Calling" on "Supernatural", produced an electronica album, "Retail Therapy" under the pseudonym TDF in 1997, and made four other albums, one a collaboration with the legendary B.B. King, and cumulating with the 2004 "Me and Mr. Johnson", a tribute to one of his first influences, Robert Johnson. Robert who? Yes, it might surprise you to know the man who inspired him the most was a relatively unknown blues icon from Mississippi. Johnson, who had a brief career in the 1930s, died young, at the age of 27.
Recent excerpt of Matt Lauer interview on the "Today Show"
Matt Lauer: How did you become exposed to him? (Robert Johnson)
Eric Clapton: Someone had his (first) album and played it to me and that was it. And I was completely bowled over.

Clapton's latest CD is a tribute to Johnson, covering 14 of his songs.
Lauer: Let me read you what you said about him. 'His music is like my oldest friend, always in the back of my head and on the horizon. It's the finest music I've ever heard. I've always trusted its purity. And I always will.' I don't know what more you could say....
Clapton: Well that one, I just wrote that just now. (Laughter) I mean that, (Laughter) but that is true. That's exactly the way it affected me, it motivated me to be a musician.
Lauer: Is it hard to play the blues when you're happy?
Clapton: Not at all. (Laughter) I've recovered from a lot of things. But I can get in touch with those things anytime I like, or even, if I don't want to. If I sometimes will just get a flashback out of the blue without any expectation and I want to cry about something that's happened in my life. As much as I've grieved and mourned and gone through the processes, those things still come back. I mean, it is part of me.
Johnson's influence on Clapton went well beyond his music. His drug and alcohol rehab facility is named "Crossroads," in Antigua, after a Johnson song. Founded in 1997, the center has been a passion of Clapton's ever since.
Clapton: I haven't had any of that stuff in my system for nearly 16 years. And my life has seriously gotten better. And it's an inside job. It's like on the outside, not too much has changed. There's always been money and stuff and a career and music and things like that moving around my life. But I never really felt really good about me. So that's what needed to change was I had all this stuff when I was 21. And I still wanted to die (Laughter) on a daily basis.
And now, at the age of 58, Eric Clapton continues to work on his music as he takes his place in history. He's won 16 Grammys, is a triple inductee into The Rock and Roll Hall of Fame and is undoubtedly one on the most revered and truly talented guitarists in the world.
Eric Clapton inducted
into the Rock and Roll Hall of Fame.... 2000
Eric Clapton was inducted into the Rock and Roll Hall of Fame for the unprecedented third time when he was honored for his solo career during the Fifteenth Annual Induction Ceremony, held on March 6, 2000 at the Waldorf-Astoria Hotel in New York City. Robbie Robertson (The Hawks, The Band) was his presenter. Previously, Clapton has been inducted as a member of both the Yardbirds and Cream.
Home | Eric Clapton Discography | Classic Rock video | Discography Index | Poster Shop | Rare Rock Interviews | MP3 Clips | Rating Criteria | Classic Rock Links | Contact Me | Classic Rock Trivia | Classic Rock Blog | Site Map

Classic-Rock-Legends-Start-Here.com
Copyright © 2007 All Rights Reserved