Jimi Hendrix
Are You Experienced?
---
Classic Rock Legends > Jimi Hendrix
---
Jimi Hendrix expanded the range and vocabulary of the electric guitar into areas no musician had ever ventured before. Many would claim him to be the greatest guitarist ever to pick up the instrument.
At the very least his creative drive, technical ability and painterly application of such effects as wah-wah and distortion forever transformed the sound of rock and roll. Hendrix helped usher in the age of psychedelia with his 1967 debut, Are You Experienced?, and the impact of his brief but meteoric career on popular music continues to be felt. ---Rock and Roll Hall of Fame and Museum---

---
Chas Chandler the Animals former bassist took Hendrix to England and helped him form his new band, The Jimi Hendrix Experience with Noel Redding on bass and Mitch Mitchell on drums.
This is vintage Jimi Hendrix...take a look and a listen.
---
Purple Haze > Album - Are you Experienced > 1967
Video Copyright Notice



Birth Of A Legend
Hendrix was born in Seattle, Washington on November 27, 1942. His mother Lucille named him Johnny Allen Hendrix, only to be changed to James Marshall Hendrix some years later. Influenced by black church music, Jimmy wanted to get involved. In those days regular instruments were not too plentiful so Mississippi blues singers used to play music with a homemade instrument known as a "one strand on the wall".
Children that could not afford a guitar would remove a wire from around the straw of a broom then stretch and nail it to the wall. One hand plucked the beat while the other slid a soda bottle along the wire to produce the tone. Many of the R&B greats like B.B.King started out with this instrument.
Jimmy never mastered the "one strand on the wall" but preferred to strum an old broom a la air guitar. He carried that old broom with him everywhere pretending to sing and play guitar.
Jimmy willingly accepted an old one stringed ukulele that his father found one day while cleaning out someone's garage. He worked out a number of songs on that ukulele and was influenced by the song Love is Strange the 1956 top 20 hit by Micky and Sylvia. Picking out tunes on a one string ukulele was not going to satisfy Jimmy Hendrix for long. If Jimmy was ever going to learn to play properly he needed to have a real guitar.


Jimi Hendrix Bio Continues Below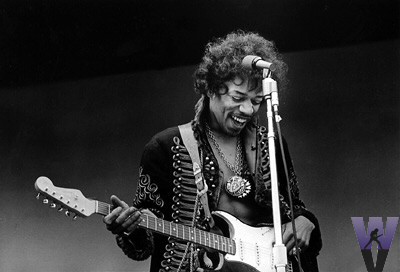 ---
More Jimi Hendrix links


Discography and Fact Sheet - Top 10 albums, singles, list positions and more

Browse the Jimi Hendrix Poster Shop



---
Learning His Craft
In 1958 Al Hendrix purchased his son a second-hand acoustic guitar for five dollars. Jimmy was left handed and could not get used to playing the guitar right handed. He had to change the strings and flip it around left handed, right hand on the frets, left hand doing the picking. Although not knowing how to read or write music, and having to play entirely by ear Jimmy joined his first band The Rocking Kings playing bass on six string guitar. The day Jimmy's father consented to let him attend formal practices and eventually play in public was the happiest day of his life so far.
In 1959, Jimmy received his first electric guitar, a Supro Ozark 1560S, also a gift from his father.
Over the weeks and months 1959 to 1960 "The Rocking Kings" continued to gain popularity. They came in second in the all state band of the year contest. Their biggest break came when they got a steady gig at Birdland doing teen dances three nights a week. It was here that Hendrix had his guitar stolen. Jimmy did without a guitar for a long time but eventually Al bought Jimmy a new Danelectro.
The band became disenchanted over a string of bad luck, split up and reformed as Thomas and the Tom Cats. This gave Jimmy the chance to play regular lead guitar with the group for the first time instead of continuing on bass. The Tomcats picked up where the rocking Kings left off rehearsing and playing all over Washington state but for little real cash.
Joining Up With Uncle Sam
Despite his semi-steady gig with the Tomcats Jimmy Hendrix life seemed to reach a very low point. He had a fight with his dad, Jimmy ended up getting hit in the face. He was also disenchanted with job prospects in the Seattle area for people of color. Jimmy wasn't a bad kid but mischief and guilt by association landed him in court with only a 2 year suspended sentence because the judge remarked that Jimmy was seriously considering joining the army.
In 1961 Hendrix left home to join the Army. Knowing that he was going to be drafted anyway and not having a nickel to his name, Jimmy walked into the army recruiting station and signed on the dotted line. He wanted to be a parachutist with the 101st Airborne, a Screamin Eagle!
In May of 1961 James Marshall Hendrix reported for duty at Fort Ord California. After basic training and three months at Fort Ord Jimmy made jump school and left for Fort Campbell Kentucky in November of 1961.
He and fellow serviceman Billy Cox formed a five piece band The King Casuals and played for the troops on base. Although short-lived Hendrix was beginning to re-hone his axe man skills once again.
Jimmy claimed that jumping was the most thrilling thing he ever did. Eventually he won his Screamin Eagle patch and was promoted to private 1st class in January 1962.
The army was loosing its luster for Hendrix who grew tired of taking orders. He was looking for a way to leave the service. One day Jimmy managed to get his ankle caught in the sky hook before a jump. The ankle was broken and that ended his military career. Jimmy Hendrix was honorably discharged in July 1962.
The Experience
Hendrix took on the name Jimmy James and became a session guitarist supporting the likes of Sam Cooke and Ike and Tina Turner. Legal and contractual disputes ended up causing Hendrix to leave this life and form his own band, Jimmy James and the Blue Flames in 1966. He hadn't made much of an impact on the music world at this point, and was not given much notice until he met Chas Chandler, The Animals former bassist, at a New York Club.
Chandler took Hendrix to England and helped him form his new band, The Jimi Hendrix Experience, which included Noel Redding on bass and Mitch Mitchell on drums. It was about this time that Chas and Jimmy decided that his professional first name should be shortened to Jimi. They figured that the shortened version would stand out and be better remembered.
In 1967 the Who's management team of Kit lambert and Chris Stamp recognized the talent that was Jimi Hendrix after seeing him at a show one night. They wanted their own label "Track" and also wanted to be part of the imminent success of Jimi Hendrix. Sensing that Jimi's sound was going to explode they wanted to sign him to their Track label but needed backing.
The team approached Polydor and after several weeks of negotiations the deal hinged on Jimi's "Ready, Set, Go" appearance. Thanks to the Who's semi-permanent gig on RSG, Jimi was promptly booked on the Ready, Set, Go (RSG) show, one of the most popular and important British TV pop shows of the 60's.
A deal was struck with polydor. They would release "Hey Joe" and if it went well Polydor would finance Track Records and future Experience recordings would be released on the new label.
The Jimi Hendrix Experience went on to record three landmark albums - Are You Experienced?, Axis: Bold As Love and Electric Ladyland - in a year and a half. Hendrix theatrical, explosive performances at the Monterey Pop and Woodstock festivals, including the ceremonial torching of his guitar at Monterey, have become part of rock and roll legend.
Axis: Bold as Love, 1967. This album wasn't quite as powerful as Are You Experienced, but it was nevertheless another major effort, showing Hendrix continuing to grow, particularly in his increasing mastery of the studio and writing more sophisticated lyrics. Soul and R&B influences are more prominent here than on his debut, though psychedelic experimentalism ran rampant.
Electric ladyland pushed the envelope of psychedelic experimentation and current studio technology to its limits. Some of this album's effects could only be realized through the use specialized electronics and master tape manipulation. Cross Town Traffic and a cover of Dylan's All Along the Watchtower, were two of Hendrix catchiest and most pop-friendly tunes.
Loss of Direction and Tragedy
Hendrix and Redding had increasingly violent personality differences, fueled by drugs and alcohol, cumulating in 1968 when Hendrix was arrested in Stockholm for trashing his hotel room after a fist fight with the bassist. The band still went on to record Electric Ladyland in 1968, but Hendrix's insistence on multiple takes of each song and opening the studio to groupies caused Chandler to quit as manager and hand the reins over to Mike Jeffery. Despite this turmoil, the album pushed the envelope in regard to psychedelic experimentation and the use of studio technology.
Under extreme pressure due to a combination of nonstop work, sudden celebrity and drug-taking, The Jimi Hendrix Experience broke up in early 1969.
Hendrix formed a new temporary band, Electric Sky Church, just in time to play Woodstock, and despite the poor preparation, performed a rendition of "The Star Spangled Banner" that, with its wildly distorted guitar licks, became an instant sensation, a statement to the political cry of a new generation.
Shortly after Woodstock Hendrix formed the Band of Gypsies with Billy Cox, who played with him in the army with the King Casuals, and Buddy Miles, an old friend of his. The band's New Year's Eve concert at the Fillmore East in New York City provided them with material for their live album, Band of Gypsies. This new lineup didn't last long. They performed a few more times, but their relationship rapidly deteriorated due to Hendrix's drug addiction, which left him incoherent during a performance in Germany and he was eventually booed of the stage.
Hendrix returned to England, only to die in his sleep on September 18, 1970 at the Samarkand Hotel in London. He was 27. The cause of death was vomit inhalation during a barbiturate induced coma. A re-opening of the investigation by Scotland Yard in 1993 turned up no new evidence, and the verdict stood. His body now rests in the Greenwood Memorial Park in Renton, Washington in a family plot. His father is currently planning a memorial to his talented son on that spot.
Hendrix recorded a massive amount of unreleased studio material during his lifetime. Much of this (as well as entire live concerts) was issued posthumously. Hendrix's family launched Dagger Records, an authorized bootleg label to supply hardcore fans with material that would be of limited commercial appeal, including several live concerts and a collection of studio jams and demos called Morning Symphony Ideas. Despite his decline and early death, Jimi Hendrix catalog of material remains an historic and lasting influence on the music industry to this day.
Rock and Roll Hall of Fame
The Jimi Hendrix Experience was inducted into the Rock and Roll Hall of Fame in 1992.
Inductees: Jimi Hendrix (guitar,vocals, born November 27, 1942), Noel Redding (Bass, born December 25, 1945), Mitch Mitchell (Drums, born June 9, 1947)
Home | Jimi Hendrix Discography | Classic Rock video | Discography Index | Poster Shop | Rare Rock Interviews | MP3 Clips | Rating Criteria | Classic Rock Links | Contact Me | Classic Rock Trivia | Classic Rock Blog | Site Map

Classic-Rock-Legends-Start-Here.com
Copyright © 2007 All Rights Reserved