ACDC - Pioneers of Hard Rock
Page 1 of 3
---
Classic Rock Legends > ACDC
---
For three decades ACDC has reigned as one of the best-loved and hardest-rocking bands in the world. Featuring guitarist Angus Young as their visual symbol and musical firebrand, they grew from humble origins in Australia to become an arena-filling phenomenon with worldwide popularity. They did so without gimmickry, except for Angus's schoolboy uniform, which became mandatory stage attire. From the beginning they have been a straight-ahead, no-frills rock and roll band that aimed for the gut. This uncomplicated approach has given AC/DC a single-minded sense of mission. They've never recorded power ballads or gone soft to enhance their commercial appeal.


---
Thunderstruck is one of the most popular ACDC videos on the web and a personal favorite of mine. It has had over 2,000,000 viewings. The military chopper shots give this cut an Awesome impact. See for yourself...and pump up the volume.


Thunderstruck - The Razor's Edge 1990
Please pay it forward and report broken video links here
---
Angus Young the "AX" man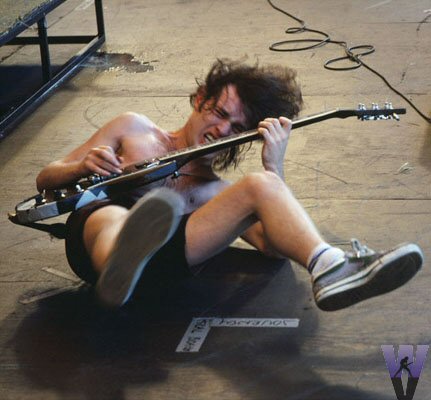 Angus Young interview - Why he plays a Gibson SG guitar
---
ACDC's unwavering devotion to no-frills hard rock with plenty of bawdy wit has made for a consistency that's won them the loyalty of millions of fans, who range from working stiffs to the Rolling Stones' Keith Richards. Another famous fan, author Stephen King, tapped AC/DC to assemble Who Made Who, the 1986 soundtrack album to the film version of his novel Maximum Overdrive.--Rock and Roll Hall of Fame and Museum--
After searching the web for the best prices and lowest shipping costs I have found that Zzounds offers the widest selection of name-brand instruments, including Gibson SG standard guitars, at the guaranteed lowest prices . You can browse over 125,000 different products from the Zzounds website 24/7.
FREE guitar lessons from Jamarama...the most respected teaching methods on the web. If you ever wanted to learn guitar Jamarama is a no risk way to try out guitar lessons. You really can't loose. You never know...you may be the next Angus young! Order your FREE 6-part Guitar E-course here.

---
Check out Gibson Guitars here!
---
---
You can get FREE Backstage Passes to ANY concert in the world! Read Rob Rednalab's story and in 5 minutes... you can too! Try FREE for 90 Days

MORE ACDC Music Video
Discography and Fact Sheet - Top albums, singles...
LEARN guitar - check out our Guitar Lessons Articles
Watch this VIDEO and see how Classic Gibson Guitars are made!



---
Amazingly, this Australian rock-n-roll band with only 11 top 10 singles since 1973 has sold over 63 million albums in the USA alone.
ACDC has survived line up changes, controversy over their rock and roll lifestyle, changes in musical trends and even the senseless death of their front man Bon Scott.
Through it all ACDC have remained true to their uncomplicated musical style. They are "simply" a fun and somewhat bawdy hard rock band. Their consistency from album to album is legendary. Several years ago a critic complained that the group had made 10 albums and they ALL sounded the same. Angus Young remarked that the critic was a liar and that they had made 11 albums and that all 11 sounded the same.
"We just play music that's fun and simple--the way our audience likes it." -- Brian Johnson (vocals)
ACDC plays what fans want to hear and just keep crank'n those albums out. The latest being Stiff Upper Lip the group's 15th studio album recorded in February 2000. The title cut Stiff Upper Lip, Meltdown and I Feel Safe in New York City in my opinion, are the best of the album tracks. Remember to pump up the volume - the best way to experience the riff machine... Angus's Gibson SG guitar...one in a long line of classic Gibson guitars.
The Young brothers
Malcolm (Born 1/6/53) and Angus (Born 3/31/59) were the youngest of eight children born to William and Margaret Young in Glasgow Scotland. Next was George, whose own musical successes would be a major influence on the careers of brothers Malcolm and Angus. Slightly older was Alex, a professional musician in his own right, in the pre-Beatle era of Glasgow Scotland.
Life in this working class town in a down economy was rough. It was impossible to get work and provide for eight children under those economic conditions. At the time Australia was actively promoting immigration to fill job positions and offered families the opportunity to sail South to the land "Down Under" for the equivalent of only 25 dollars per person. Many working class families took the opportunity as did the Young family and emigrated to Australia in 1963.
Home | Band Discography | Classic Rock video | Discography Index | Poster Shop | Rare Rock Interviews | MP3 Clips | Rating Criteria | Classic Rock Links | Contact Me | Classic Rock Trivia | Classic Rock Blog | Site Map

Classic-Rock-Legends-Start-Here.com
Copyright © 2011 All Rights Reserved