Aerosmith
Still Rockin' After All These Years
Page 1 of 3
---
Classic Rock Legends > Aerosmith
---
Aerosmith were America's feisty retort to hard-rocking British groups like the Rolling Stones, the Yardbirds, the Who, Cream, Deep Purple and Led Zeppelin. Almost alone among American bands, Aerosmith matched those British legends in power, intensity, and notoriety. Moreover, they've long since surpassed many of their influences in terms of longevity and popularity. In the words of vocalist Steven Tyler, "We weren't too ambitious when we started out. We just wanted to be the biggest thing that ever walked the planet, the greatest rock band that ever was." Meanwhile, their canon of great music and reputation as an unbeatable live act continued to grow.
Perhaps most notably, the same five musicians who came together in 1970 are still together more than 30 years later, as their train keeps a-rolling with no end in sight. ---Rock and Roll Hall of Fame and Museum---

---
Aerosmith recorded their first Album, self titled "Aerosmith" in 1973. It peaked at number 21 in 1976 and produced the groups first top 10 single "Dream On" at number 6 on the Billboard 200 chart. Another notable release on that album was "Mama kin"…a consistent crowd pleaser but it never made the charts.
"Movin-Out" also on the "Aerosmith" album tells the story of living in their first house after moving to Boston. Aerosmith's first apartment in Boston VIDEO

---
Aerosmith Live! Performing "Dream On" - 2004 tour in support of their Honkin'On Bobo album.
---
Joe Perry Interview - Gear, Guitars and Equipment
Brad Whitford Interview - Gear, Guitars and Equipment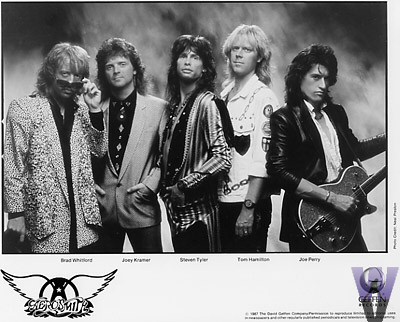 ---
Discography and Fact Sheet - Top 10 albums, singles, list positions and more

---
Steven, Joe And Tom Gettin' Together
Steven Tyler (Tallarico) - born March 26, 1948 in New York, New York to Victor Tallarico and Susan Blancha. Victor was a schooled pianist, a graduate of the Juilliard School of Music in New York. The Tallarico family owned a vacation resort in Sunapee New Hampshire, called Trow-Rico. The family spent summers here and Steven loved the woods, hunting and trapping.
Steven learned to play the drums to join his father's group, the Victor Tallarico Orchestra. He hated it but what could he do. Steven played drums with his first serious band, the Strangers in 1965. They got pretty good and even opened for the Yardbirds in Westport Connecticut. The band changed their name for legal reasons to the Chain Reaction. Management disagreements and financial accusations eventually led to the breakup of the Chain Reaction in June of 1967.
In fall of 1967 Tallarico started playing drums with Chain, a trio of Steven, Don Solomon and Frankie Ray. In early 1970 Steven started another band called William Proud including former band mate Don Solomon and his old buddy Ray Tabano. Disenchanted with the progress of the group and the whole New York music scene in general, Steven made his way up to Sunapee for a breath of fresh air. Steven Tallarico went to the Barn to see the Jam Band with Joe Perry on guitar and Tom Hamilton on bass. He was so blown away with the talent that night in 1969 that he remarked to an old friend that "that will be my next band".
---
Joe Perry - born September 10, 1950 in Lawrence, Massachusetts. Joe's father, Anthony, had been in the Air Force during World War II and trained as an accountant afterward. The family moved from Lawrence to Hopedale when Joe was still a toddler.
Joe became fascinated with music very early in life. He loved to listen to music on the radio and watch his uncle play the ukulele. Joe got his first guitar at nine, a Silvertone acoustic guitar from Sears. It didn't last long; the neck broke off during horseplay at home.
He wanted desperately to own an electric guitar and his parents weren't going to buy him one, so he took jobs mowing lawns and earned the money on his own. He joined his first band, Chimes of Freedom, at age 14.
Every summer, the Perry family stayed at Lake Sunapee in New Hampshire. At age 16, Joe hooked up with a drummer named Pudge Scott and a bass player named Tom Hamilton in a band called Pipe Dream. They played the Sunapee area all summer until Joe returned to Hopewell in the fall for school. In 1969 in Sunapee the trio of Joe, Tom and Pudge named themselves the Jam Band. That summer they became the house band at the local club, the Barn and were soon to be visited by Steven Tallarico.
Joe Perry's gear, guitars and equipment
A Steve Rosen Interview
---
Tom Hamilton - born December 31, 1951 in Colorado Springs, Colorado. Due to his father's career in the Air Force, Tom spent his early childhood moving around the country. When Tom entered his early teens, his father left the Air Force and took a job in Sunapee, New Hampshire helping Tom's uncle start a firearms part manufacturing company.
Tom attended New London High School. Tom had the potential to excel in school but just couldn't get his act together. He thought school was boring and that led to a boring life. The fact that he grew his hair long also contributed to troubled times in high school as well as at home.
Tom discovered a passion for music in his early teens. His older brother Scott owned a Fender Stratocaster guitar on which Tom taught himself the basic chords and a few Ventures songs. Eventually, Tom got his own guitar- a Fender Precision Bass, which he mastered by playing along to Rolling Stones albums. Tom joined his first band, Sam Citrus and the Merciless Tangerine in 1966. Their gimmick was to wear orange clothes. Soon after that they began hitchhiking to Boston to see shows on the weekends.
In the summer of 1967 when Tom was 15, he teamed up with a 12-year-old drummer named Pudge Scott and a 16-year-old guitarist who summered at Lake Sunapee named Joe Perry. They became the Jam Band and the rest is history.
Home | Classic Rock video | Discography Index | Poster Shop | Rare Rock Interviews | MP3 Clips | Rating Criteria | Classic Rock Links | Contact Me | Classic Rock Trivia | Classic Rock Blog | Site Map

Classic-Rock-Legends-Start-Here.com
Copyright © 2007 All Rights Reserved